Partner with us to get Block Board, Commercial Plywood and Doors, all under one roof.
About Us
It is very difficult to get a variety of wood based items, all in best quality, under one shed. But making this difficult task being made easy by
Om Enterprise
, an
ISO 9001:2015
based company and a
Kheda based manufacturer, exporter and supplier
of
Decorative Plywood, Commercial Plywood, Pine Wood Block Board, Laminated Door, Mix Pine Flush Door,
and many other wood based products. Our major focus is on delivering unmatched quality which is why we have been sourcing termite resistant and durable wood from reliable vendors. In addition to using quality best wood, we also have been using advanced machinery so that every product is dimensioned perfectly and is flawless.
It was in the year
2000
that the company was formed and since then we have been bringing forth wood products which are appreciated for features like resistance to warp, low care or maintenance, and distinctive power. Customers wanting a custom-made range of doors are most welcome because we render customization facility and make doors in the type of material and size which customers prefer the most.
Our Production House
Manufacturing a wooden range so good in quality and so longer serving has been possible not only because of top grade wood but also because of hi-tech equipment which helps us give perfect shape and finish to Pine Wood Block Board, Commercial Plywood, Plywood Flush Door, and other products. We possess an advanced production house, fitted with modern machinery. In the unit, all semi-automatic operations are performed.
Customer Satisfaction
Caring for customers is the best thing we do and that's what our customers say because to them we offer a variety of services, all benefiting. From custom-made doors to prompt delivery service, and products of known brands like
Rangoon, Vedanga, Anjalika, Blackburn
and
Boat
, we take every possible steps to give our customers compete satisfaction.
Our Future Plans
A list of plans that we have made to sustain the business for long are as follows:
To grasp many opportunities in Indian market
To expand our business in Indian as well as in International markets
To increase the number of people working in the company so as to produce products faster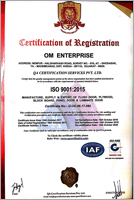 "We are looking for Bulk Order Inquiries"

Get in touch with us